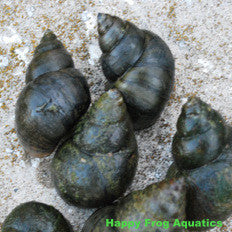 Japanese Trapdoor Pond Snails | Viviparis malleatus | Small Quantity - 12+
---
ILLEGAL TO SHIP TO: WI  - Japanese Trapdoor Snails (Viviparis malleatus) help control algae naturally. Trapdoor Snails will eat algae, leftover fish food, decaying leaves and help keep your water garden clean. Pond Snails are helpful controlling bottom sludge and hair algae. Use one pond snail for every ten gallons of pond water to have the best affect. Japanese Trapdoor Snails are one of the few species of snails that will survive northern climates. Japanese trapdoor snails are live-bearing and non-invasive. It is best to order snails in the Spring or Fall when temperatures are cooler across the country.
MINIMUM QUANTITY OF JAPANESE TRAPDOOR SNAILS IS 12

When you order snails and temperatures are 85 degrees or higher across the country we cannot guarantee live arrival and no refund or replacement will be issued.
---
More from this collection